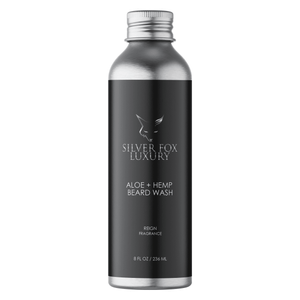 Keep it clean and fresh with our Silver Fox Luxury Signature Collection Beard Wash! Beards are beasts. If you have one, you know! Beards are made of tough hair and they drink a lot of water and oil and need special treatment. The Silver Fox Luxury Signature Collection Beard Wash is extraordinary and up for the task!
Our perfectly balanced blend of aloe and hemp will absolutely amaze you. And as with all of our products, a little goes a very long way. 
What's unique?
- Aloe Vera Gel
- Hemp Seed Oil
- Rice bran Oil
- Salt
Why salt? Salt helps to cleanse pores deeply, balance oil production and thwart bacteria that can instigate breakouts and acne. The scent, a sumptuous blend of crisp tobacco leaves, citrus and bay Leaves (a very fresh smell), will leave you wanting to have multiple showers a day.  Lavish the super thick suds and the way it makes your beard feel!
Ingredients: Aloe Vera Gel, Cocamidopropyl Betaine, Sodium Decyl Glucoside, Sodium Lauroyl Lactylate, Kosher Vegetable Glycerin, Citric Acid, Sodium Chloride, Organic Hemp Seed Oil, Ethylhexylglycrin & Phenoxyethanol, Ricebran Oil, Distilled Water, Sodium Chloride, Fragrance.